Regular vacuuming and wiping down of upholstery furniture is beneficial to keeping the office looking and smelling good. Over time dirt, grime and spills can take their toll on upholstered surfaces, making them look tired and worn out. Deep cleaning will keep upholstery looking like new, and extend the life of the piece.
Office furniture gets more wear and tear than furniture in your home. You spend more time on average at the workplace and track in dirt and allergies all day long. A cleaner, better-looking office provides a better business atmosphere for your employees. Commercial upholstery should also receive a professional deep steam cleaning one to two times a year. This is especially true if pens are dropped frequently on the upholstery leaving ink stains.
When stains get grounded into the upholstery it decreases the life span of the furniture making it look old and unattractive. When furniture does not undergo deep steam cleaning, stains and marks can eventually become permanent. When you hire a professional cleaner, they have special tools to easily remove these stains, making the furniture last longer.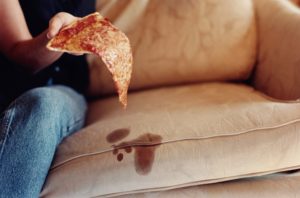 Upholstery naturally collects many different pollutants, especially dust mites. Chairs and sofas that hardly get cleaned have tons of dust on them. The dust is not only on the surface but in the padding deep inside and comes out into the air every time the furniture is used.
Along with dust, upholstery can contain many different types of allergens and harmful organisms such as mold, bacteria, pollen and viruses. These organisms can be released into the environment each time someone sits down on a sofa or chair. Deep cleaning removes many more organisms than a surface cleaning keeping the workplace cleaner for everyone.
At C.M. Cleaning our staff is trained to pay particular attention to details when performing your custom cleaning program. Basic cleaning and vacuuming of your furniture and upholstery is done routinely and we are always ready to perform steam-cleaning as needed or requested.